Advertising

y u no do it?

Advertise virtually anything here, with CPM banner ads, CPM email ads and CPC contextual links. You can target relevant areas of the site and show ads based on geographical location of the user if you wish.

Starts at just $1 per CPM or $0.10 per CPC.
Phone Home Tool
Find your stolen/lost computer or just spy on someone using it.
over here
.
What the hell is this?
This is a system that can help you recover a lost or stolen Macintosh computer.
Why did you make this?
My sister and brother in-law had their laptops stolen with no way of knowing who took them or where they currently are. So that gave me the idea to make this system.
What else could you do with this?
You could see if someone was trying to access your computer when you are away. Your computer will take a picture and transmit it to our servers when the computer wakes from sleep.
What are the system requirements?
Mac OS X 10.4 or higher. If you want to see images of who's using your computer, it needs to be hooked up to a webcam (or have a built-in iSight camera).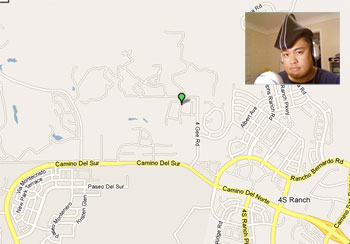 What information do you track?
We are able to determine the physical location typically within a few miles by the IP address it's using. If your computer is stolen, you can subpoena the Internet service provider to find out who exactly owns the IP address the computer was using. If your computer has a camera on it you can choose to view images of who is using your computer.
I don't want it to take my picture all the time. Can I disable this?
Yes, it's off by default. You can choose to receive pictures at any time (even after your computer is stolen).
How long do you store historical data?
We store the IP addresses your computer(s) used (along with their location) for the past year and images of who's using your computer for the past month.
How often do you collect data?
The program sends information to our servers about it's whereabouts anytime it's network configuration changes (this would be any time it's IP address changes due to logging on to a new network for example). This means your comptuer will potentially "phone home" when it boots, wakes from sleep or anytime your wireless connection drops out and then reconnects.
What if someone never was able to log into my stolen computer?
The Phone Home daemon runs behind the scenes and is up and running before anyone logs into the operating system. This means if someone boots your computer (and it has Internet access) it will report back where it is along with a picture of who's sitting in front of it.
How much does this cost?
We will collect all the data and keep historical records for you for no cost. You will be able to see a map of the general location of your computer for no cost. Accessing the detailed information (exact IP address it was using as well as images) is free for our premium members. This means you can upgrade to premium membership AFTER you need to locate your computer and you will have full access to your historical data/images. No need to pay to track before you need to know where it is.
Okay, I want to install this. How?
You need to be a registered user (it's 100% free to register) so that we know which computers are yours. Once you are registered and logged in, you will see a download link on this page.
How do I uninstall this?
If you no longer wish to track your computer, double click the installer. If the installer runs and it's already installed, it will simply ask if you wish to uninstall.
This service was only for Macintosh computers. Apple introduced the ability to find your computer as a feature built into the operating system with iCloud with Mac OS X 10.7, so this service isn't really needed any longer. You can find more information about it